It's summer, and my thoughts have turned to sun hats. 
Actually, let me clarify that.  What I really mean is that I've become obsessed with searching out one very specific hat pattern.  One that's been marked in my etsy favorites for quite a while:
I don't think I need to explain the siren-like call of the hat.  I mean, what's not to love?  The baggy top!  The oversize pleated brim! It's REVERSIBLE!  Clearly I need to make one or twelve RIGHT NOW in the brightest colors imaginable.  I live on one of the streets doomed to be clogged due to this weekend's "Carmageddon" in Los Angeles, so if I'm going to be trapped in my house for the weekend I might as well hunker down and make obnoxious sun hats while drinking mojitos. 
But...the item listed as "Lady's Vogue Reversible Sun Hat PDF Pattern" is on Etsy no more.  The seller no longer exists, so the ghost of the item can't even be viewed.  Only this scrap of information remains.  I scoured the Vintage Sewing Pattern Wiki and have yet to uncover it, although after stumbling across Vogue 6805 I feared to explore summer hat territory further: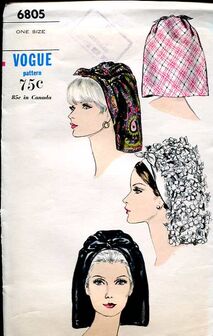 Is it a bandana?  A veil?  A veindana?  Are those fake flowers on view 3 -- and could it be a wedding version?  I'm very, very confused.
While I ponder the conundrum of Vogue 6805, please report any sightings of the Vogue Reversible Lady's Sun Hat to PatternJunkie HQ.  Do not approach the hat or make eye contact with it, as it may be armed and dangerous!